NEW Leadership® Virginia is a non-partisan, six-day residential summer program that will take place from June 9 – 14, 2024 through the Gender and Policy (GAP) Center at George Mason University's (GMU's) Schar School of Policy and Government in Arlington, Virginia.
Accepted students from colleges and universities around the Commonwealth will meet women leaders, learn about women's participation in American policy, politics and public life, and develop and practice leadership skills through panel discussions, workshops, and projects. After the summer institute, participants will become part of NEWL's national network of distinguished alumni.
The Schar School's Gender and Policy (GAP) Center at GMU was selected by the Center for American Women and Politics (CAWP) as the sole NEW Leadership® National Network Partner for Virginia. NEW Leadership Virginia flyer
Join us for a virtual information session to learn more on Wednesday, November 15th at 4pm. Register here for the November 15th virtual information session.
Application Deadline: March 1, 2024.
Any questions can be directed to NEW Leadership® Virginia's Co-Directors: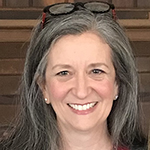 Bonnie Stabile (bstabile@gmu.edu), GAP Founder and Director; Associate Professor and Associate Dean of Student and Academic Affairs, Schar School of Policy and Government
Jill Deering (jdeering@gmu.edu), GAP Board Member; Senior Assistant Dean of Student and Academic Affairs, Schar School of Policy and Government
Speaker/affiliate faculty members for NEW Leadership®
Anne Holton
Professor of Public Policy and Education; Senior Fellow, EdPolicyForward
Jatia Wrighten
Assistant Professor of Political Science
VCU | Virginia Commonwealth University